Welcome back to my A Few Favourite Things series.  This week I have Emma from Wanderlust and Wet Wipes showcasing her favourite things.  If you ever thought that travelling the world wasn't possible with children, you'd be wrong and Emma's amazing blog shows us all that we need to pack a bag and head off in search of adventure.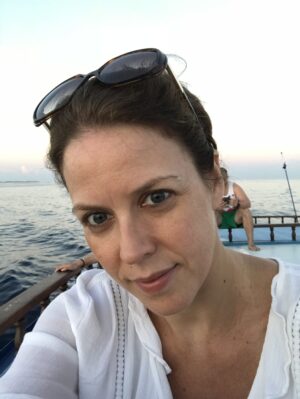 A Few Favourite Things – Wanderlust and Wet Wipes
I am Emma, a pushing 40, travel-mad mum to 2 young kids (aged 5 and 3). I'm originally from the UK but I've lived all over the world. We currently live in Doha, Qatar.
I'm married to a long-suffering (lucky!) travel mad husband and we also have a well-travelled dog who we adopted when we lived in the States. We travel around every 6-8 weeks or so – sometimes it is a long haul for a big holiday and other times a short hop for a long weekend.
FAVOURITE ROOM IN YOUR HOME
Now there's a question. In our last house, I would have said our open plan kitchen/dining room. We spent a lot of time, money and energy renovating the whole house and especially that room! I LOVED that kitchen as we made it exactly as we wanted it to be. The whole room turned out even better than we expected as we had had to use glass windows for the roof of the extension. I hadn't wanted to but it ended up making the whole room super light and airy which is what I love.
Now we are living in rented accommodation I don't have the same feeling about any of the rooms really. We now have an open plan living room/dining room which has a couple of pieces of furniture including a dining table that we found in Bali and a coffee table that my aunt made for us in Australia.
The trend I'm seeing as I think about this question is that both rooms are where we spend the majority of our time as a family so I guess maybe it's the function of the room rather than the decor that matters more to me.
FAVOURITE TREND
I'm the least trendy person I know – for anything! If you want to know what is going out of fashion look at what I'm wearing as I'm usually the last to adopt something!
There are lots of trends I like in interior design. I'm not sure if classic contemporary is really a thing but I would say that sort of sums me up. I don't like lots of clutter but I wouldn't say I'm minimalist either. I prefer clean lines to lots of ornate details. I like bright and light and airy although some of our furniture has ended up being quite dark wood for one reason or another.
We've collected lots of things over the years from different places we've lived and travelled so that has determined our style more. While I love styles such as Scandi or cottage, they don't really go with what we have going on at the moment. Generally, if I see something that I like and that I think would fit in then I get it.
FAVOURITE THING YOU OWN
Probably my laptop or my iPhone because they have connected me to things and people that I never really thought about before I had them. The main thing is that both have all our photos on them which document all the major milestones in our lives such as holidays, special events and, of course, the Things.
I also use both of them extensively for planning our travels which has ultimately led to me writing the blog (also done on both of them!)
FAVOURITE COLOUR
For me it's pink. Always pink! I especially love the rose gold colour that seems to be very 'in' at the moment (not for long if I like it haha!).
In my house, I love greys and aqua blues and greens.
FAVOURITE SEASON
As we understand the seasons generally, I love the summer. I love being warm and doing things outside. Living in the Middle East summer has a much different meaning as temperatures soar to 50C and sometimes there's humidity on top of that. So I don't love summer where we are right now, but anywhere else I do!
FAVOURITE THING ABOUT WHERE YOU LIVE
We have been given such a unique opportunity to live where we do. I love that it is a complete melting pot of nationalities and that I have friends who are from all over the world. It has inspired us to travel to places we might not have considered before and has done wonders for helping us understand other cultures and people.
FOLLOW WANDERLUST AND WET WIPES VIA SOCIAL MEDIA
Twitter: @wanderwetwipes
Facebook: www.facebook.com/wanderlustandwetwipes
Instagram: @wanderlustandwetwipes
Pinterest: www.pinterest.com/wanderlustandwetwipes/