Featured
Are you looking to slim down for a special event, or just wanting to feel more confident in your clothes every day? Shapewear can be a great way to achieve the silhouette you desire – it's really no wonder why shapewear has exploded onto the fashion scene over the past few years! Not only can these garments give an instant boost of confidence-making all those bumps and lumps magically disappear, but they can help create (and maintain) better posture too.
If you're strongly considering incorporating tummy control shapewear into your wardrobe, we've got some good news; there are plenty of products on offer that cater perfectly towards curvy women in need of additional support. To make this easier for you, today we'll be exploring several of the best quality tummy control shapewears available right now!
AirSlim® Firm Tummy Compression Bodysuit
The journey to a slimmer waist begins with the AirSlim® Firm Tummy Compression Bodysuit and booty shapewear. This masterpiece of shapewear combines targeted tummy control with full-body support, ensuring that you step out with confidence and allure. The detachable straps allow you to customize your fit, while the zipper closure ensures easy wear. This bodysuit is not just about cinching the waist – it's about embracing your curves while maintaining comfort throughout the day. With this tummy control bodysuit, you're not just wearing shapewear; you're embracing a new you.
AirSlim® Firm Tummy Compression Bodysuit Shaper With Butt Lifter
Postsurgical Shapewear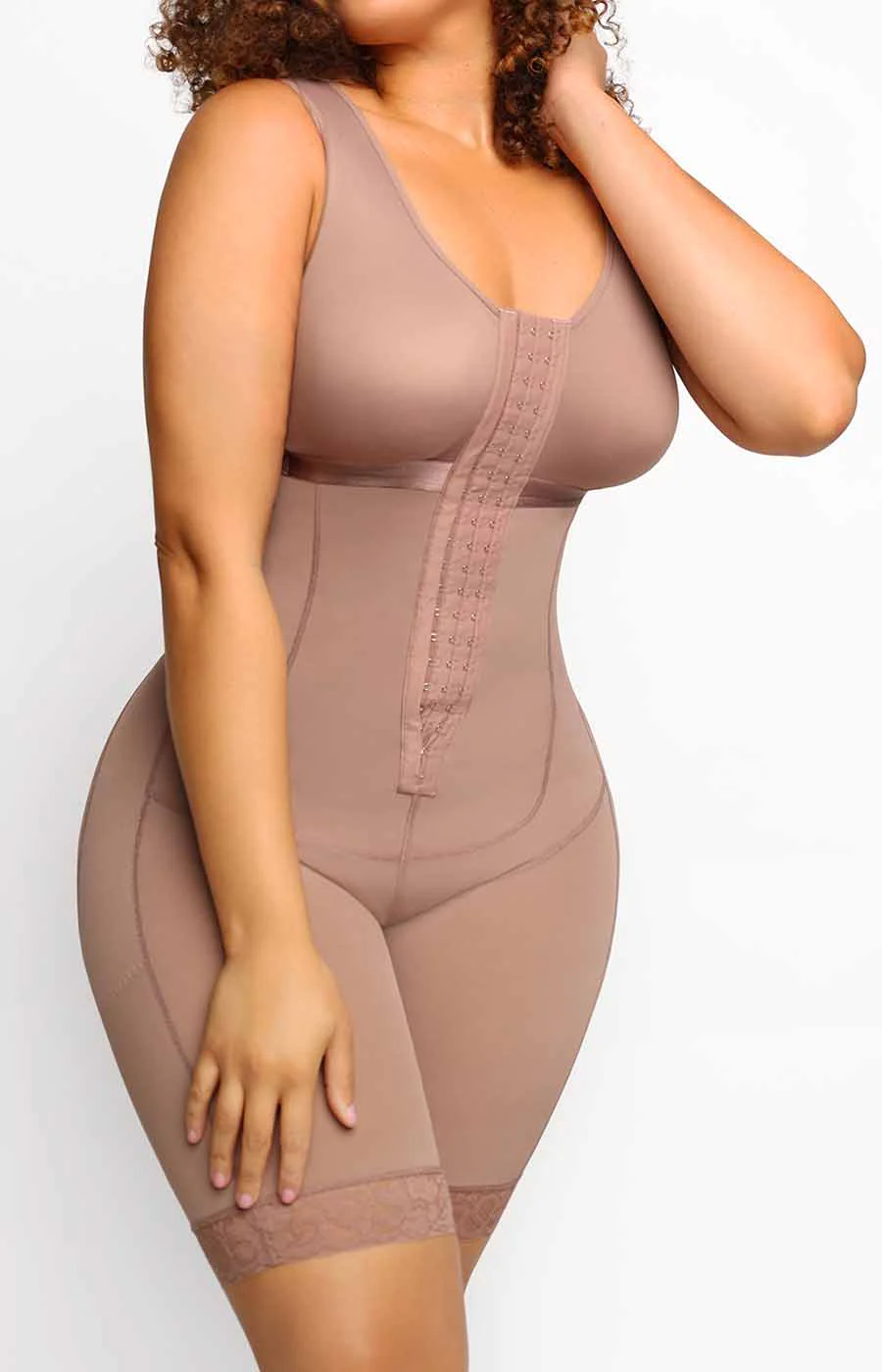 The Postsurgical Shapewear is the ideal choice for those who have had surgery and need the ideal blend of support and style. This is the best tummy control shapewear, which has been precisely crafted, provides focused control and compression to speed up recuperation while improving your body's natural curves. It's important to feel well in addition to looking fantastic. Anyone looking to contour their waistline after surgery needs this shapewear because of the comfort and support it offers.
2-in-1 Waist Cinching and Hip Enhancing Shapewear
Why limit yourself to only a slim waist when you can also highlight your curves? True game-changer is the 2-in-1 Waist Cinching Shaper Shorts. This shapewear has a cushioned butt lifter and hip enhancer in addition to tummy control. It's a full package for individuals looking to undergo a comprehensive makeover. Show off your curves with pride as this shapewear draws attention to your waist and gives your form a touch of appeal.
High-Waist Shaper Shorts
The High-Waist Shaper Shorts meet the seamless perfection requirements of short dresses and form-fitting attire. These shorts, which have a high waist and a removable belly binder for adjustable support, are made for the stylish person. With this shapewear, you can confidently slip into any outfit knowing that your waist and back are both taken care of. As these shaper shorts mould and enhance your natural beauty, gracefully embrace your curves.
Seamless Sculptor
The Seamless Sculptor allows you to enjoy the enchantment of sculpture without giving up comfort. With its power mesh construction, this shapewear smoothes and contours your body so you can confidently wear any clothing. The seamless construction assures a discrete fit, while the premium fabric ensures support and breathability. The Seamless Sculptor will quickly establish itself as your go-to secret weapon, whether you're attending a particular event or just want to feel your best every day.
Tummy Control Shapewear
The Tummy Control Shapewear is meant to help you effortlessly channel that confidence since true confidence originates from inside. This shapewear aims to control your belly while emphasizing your natural contours. Your silhouette is given an extra dash of charm by the butt-lifting effect. Knowing that this shapewear can cinch your waist, smooth your lines, and improve your overall appearance will make it easy to slip into your favorite dresses.
Neoprene Sports Shapewear Shorts
Why limit the benefits of tummy control shapewear to just everyday wear? The Neoprene Sports Shapewear Shorts are a seamless fusion of fashion and fitness. You can visit the gym or participate in vigorous activities while still shaping your waist thanks to the hook-and-eye fastening on these shorts, which ensures a snug fit. As you strive toward your fitness objectives with a dash of elegance and support, feel the confidence shine.
With a variety of options, Shapellx's proprietary belly control shapewear collection can help you effortlessly get the waistline you want. These clothing items, which range from targeted control to full-body support, are made to embrace your curves and bring out your best features. These items have you covered whether you're getting ready for a special event, healing after surgery, or just trying to feel confident every day. With belly control shapewear, you may enter a world of empowerment and transformation that affects more than simply your outward look.