AD | Featured
As the darker mornings draw in, some bathrooms have begun to feel dark and dull. From painting the ceiling to layering in accessories, Victorian Plumbing have rounded up their favourite tips to help make your bathroom feel brighter.
To state the obvious, adding a window in your bathroom would be a costly undertaking—or, depending on the floor plan, simply impossible. But, believe it or not, there are handy ways to brighten up your space without having to splash the cash. The bathroom design team at Victorian Plumbing have shared their top 8 tips for making any bathroom feel brighter.
8 tips for making any bathroom feel brighter
Place mirrors near light sources
A mirror adds instant brightness to a bathroom by reflecting light around the room. If your bathroom is feeling dark and dull, reposition your mirror directly opposite your bathroom's main light source. Whether that's a window or a light fitting, your mirror will expand visual space and amplify lighting within the bathroom. For the best results make sure that you use soft lighting so it's not too bright when reflecting off your bathroom mirror. Alternatively, you could switch to an illuminated bathroom mirror. This will provide you with additional lighting and add a stylish edge to a darker space.
Paint the ceiling white
A dark ceiling can loom above a room making it feel small and cramped. To instantly brighten your bathroom space, give the ceiling a fresh coat of white paint. And if you really want to bring life into your space, don't just stop with the ceiling. Add a fresh splash of white paint to the surrounding bathroom walls. Adding neutral-toned colours will help brighten the room and expand the feel of the room's size.
Have plenty of candles and fairy lights
Candles and waterproof fairy lights will add instant character and warmth to a dark windowless bathroom. Candles add extra lighting and create a calming tranquil space for an evening soak. Bring some sparkle into your mornings by filling a small or large glass jar with fairy lights, or why not hang them over your mirror.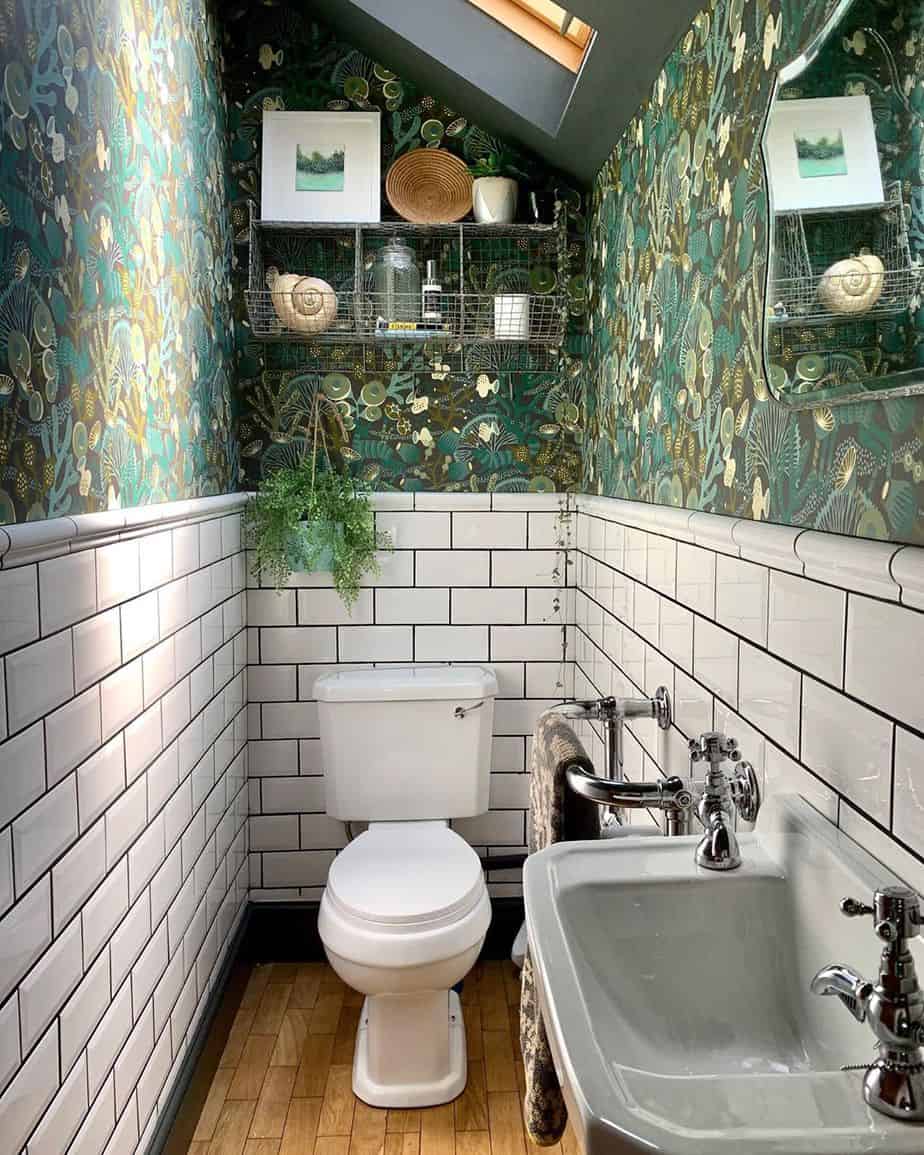 Add a pop of colour
Now you've brightened up your room with a wash of white, add life to the room with a touch of colour. It seems counterintuitive but introducing some contrasting colours can make the surrounding areas pop even more. Look especially to statement colour and patterned wall art and accessories, to add life without overwhelming the room.
Install open storage shelves
Fitting some additional wall storage will free clutter from floors and countertops. By removing these physical obstacles and burdens the bathroom will gain a sense of lift, even if the darkness if weighing it down.
When your bathroom feels dark and cramped, the last thing you want is bulky cabinets taking up precious wall space. Instead, opt for open storage shelves. These handy alternatives to cabinets can provide you with additional storage for things like plants and candles; all without blocking any light.
Update your bathroom fixtures and fittings
If your bathroom is due an upgrade, replacing any dated fixtures and fittings can instantly add life to a dark and windowless space. Simple, chrome fittings will enhance the sense of light and space in your bathroom while bringing in white elements such as plant pots and accessories can take it to the next level.
Switch your bathroom flooring
Dark flooring, whether tiled or laminated, will nearly always make a dark room feel darker and smaller. Switching your dark bathroom flooring with a contrasting black and white patterned tile or laminate will instantly draw light into the dull room. The bold patterning can also give the illusion of space. Combine both colours for massively on-trend bathroom tiles.
Bring in greenery
We all know that adding plants is a great way to improve a bathroom, both aesthetically and practically. But those with dark and windowless bathrooms are often left wondering how they can incorporate the trend. Shade-loving plants are a great option since they don't need a lot of light and can thrive in darker conditions. Make sure to use a white or neutral vase to allow the green hues of your plants to really stand out.