Right now, more than ever before, thanks to the internet and low cost long flights, we have access to the world like never before.
Realistically, though, it is not all sea, sun and sangria for everyone.
Every year, there are more reports of the most popular holiday destinations are being devastated by natural disasters and terrorist threats and attacks.
Last year, Mexico was named one of the top 10 holiday destinations. In a matter of weeks, it was devastated by two earthquakes that caused 360 to lose their lives and caused exponential infrastructural damage. Although the chances of this happening while you are visiting on holiday are low, it is hard to not think about the ever-present risk of it happening while you are there.
With climate change being the cause of some of these disasters, as more extreme weather patterns develop, then it is going to be hard to find an area of the world that is not being affected by wildfires, severe storms and flash flooding.
Europe is not immune to these disasters. While it is normally considered a safe place from active volcanoes, earthquakes and hurricanes, Europe too is not facing extreme weather conditions that are causing dangerous weather.
Greece was recently a victim to these conditions. In the summer, wildfires spread through the area and resulted in the loss of over 70 lives and complete destruction to a tourist resort.
Majorca was also affected by severe weather recently when it received torrential rain causing flash flooding that resulted in the loss of a British couple's lives.
Even with these extreme conditions, more and more British want to travel abroad. The percentage of people taking vacations and holidays abroad is set to increase to 60%. This is the highest percentage since 2011 according to ABTA's Holiday Trends Report. Be aware that not all destinations are equal though.
Some holiday destinations are looking as having a high terrorism risk. In a recent survey conducted by Silver Travel Advisor, 63% of the survey takers said they would not go on holiday to somewhere that has been attacked by terrorists. However, the memories of these attacks are short-lived when it comes to the effect of terrorism and the number of visitors who are going to these locations.
According to the ABTA's 2018 Holiday Trend report, destinations like Turkey, Egypt and Tunisia have already received more summer booking even though 3 years ago, Tunisia had a terrorist attack at the RIU Imperial Marhaba that killed 38 people, 30 of which were British tourists.
Many of the countries that are affected most by natural disasters, which also rely on tourism for their economy, are some of the most impoverished areas. The locals who live in these places are living in poorly constructed homes and rely on outdated defence and warning systems. Most of these systems need to be updated.
When a tsunami hit Sulawesi in September it came to light that their 22 deep water buoys that are used to detect tsunamis have not been functioning until 2012. The cause of this is said to be a lack of government funding and coordination.
Advice from the Foreign & Commonwealth Office (FCO) states that: "The capacity of the Indonesian emergency and rescue services to deal with large natural disasters is limited."
Even with the risks associated with traveling to places that are experiencing terrorist attacks and are prone to natural disasters, the number of British citizens who are traveling to Indonesia have almost double since 2010. According to the FCO, 360,000 British nationals have visited the Indonesian islands in the last year.
As a result of the travel to these places, the sectors that are connected to travel, like travel insurance, have risen. Many people are looking to travel insurance as a way to protect themselves against crisis' and disaster.
For example, Insure4Retirement, which specialises in Over 50s Homes and Travel Insurance, partners with Just Travel Cover to offer Crisis Response Service with a Ready2Go Gold travel policy.
One of the key benefits of this coverage is a dedicated phone number that gives travelers assistance, immediately, with an unrivalled skill set, if disaster happens while traveling.
The service is provided by S-RM who has a team of consultants who are former law enforcement agents, intelligence agency personal and military that are around the world, ready to provide assistance if there is a crisis.
Since we live in the connected age, hearing reports about disaster and terror is not the occasional news they were in the past. These events are usually headline news, only be replaced when there is a more recent event that takes over as breaking news.
Travel and tourism is a rebounding and resilient industry. Many nations relying on travel and tourism for their economy. They work hard to restore the affected areas to their former state to continue to bring people to the area.
While there will always be a lull after an event like these, but the travel industry knows that there will always be a desire to travel to these places and that desire will outweigh the risks.
With this being the case, it is important to minimise the risks and ensure that you have planned accordingly and have insurance coverage in place. It will help with assistance for any surprises and help give you peace of mind.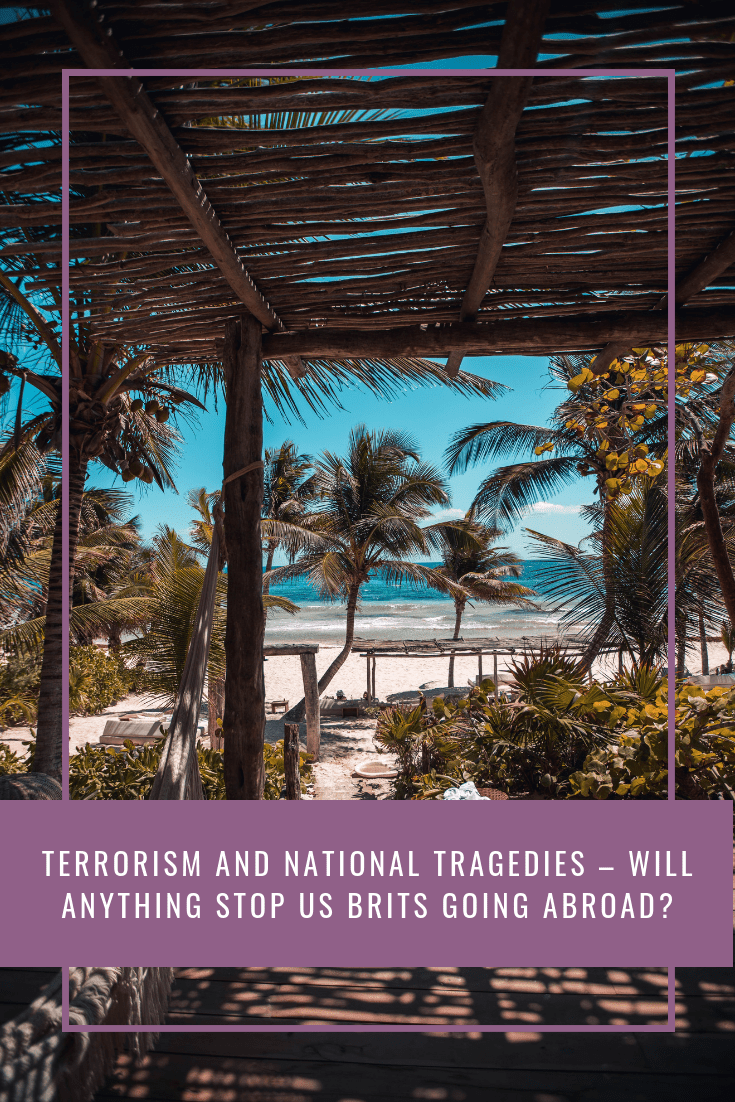 Collaborative Article
---
Photo Credit: Spencer Watson Jonathan Gallegos Enes Aktas Lrns Roberto Nickson (@g)