Welcome back to my A Few Favourite Things series. This week I have Kelly-Anne from Mimi Rose and Me showcasing her favourite things. Whether you are looking for parenting advice, top tips on new beauty products or wanting home decor inspiration, Kelly-Anne has it all – be sure to pop over and check out her blog.
A Few Favourite Things – Mimi Rose and Me
I'm so excited to be guest posting for the lovely Sarah today. With that I'd like to introduce myself, my name is Kelly-Anne and I blog over at Mimi Rose and Me, where I share all the adventures about my life with my beautiful family who are always following the fun. I will blog about almost anything that I need to voice my opinion on, along with general ramblings, food-related posts, best beauty buys and even parenting tips.
Anyway, I think I have rambled on enough, so let's get back to my post. Let me tell you about some of my favourite things…
Favourite room in your home
My favourite room in the whole house would have to be my living room because it's where we spend quite a bit of time as a family, and my sofa is so comfortable it's unreal! We have a neutral theme throughout and we are slowly introducing copper decor.
Favourite trend
I cannot say there is a certain trend that I use in my home. If I am honest our home is very neutral with flecks of colour in each room. But for me, I really love the Scandi trend. From minimal décor, sheepskin rugs and candles to monochrome colour palettes and muted grey accessories. It's a pretty beautiful trend but I prefer to add a palette of muted pinks to some greys and whites, making the looks soft and calm. Something that I plan on doing with my new office very soon.
Favourite thing you own
Ok so this may sound a little odd, but my favourite thing has to be my camera. Well I say mine, but it's actually my husband's but I have pretty much taken it from him, so it's a present?! Aha! But since becoming a blogger I have always loved photography but I have to say I wasn't great at first, but I really love it now. My favourite thing is to go to a beach and take lots of photos of my daughter and my husband together.
Favourite colour
Nothing is more fitting than layering pale pink with the oh-so-in-the-moment copper hues because they are a match made in design heaven. They are like one of those couples that look good together from the get-go and then you can't really imagine them with anyone else. And like most couples they bring out the best in one another – the copper gives the pink a bit of edge and the pink brings out the warm rose tone in the copper.
Favourite season
Autumn has to be, by far, my favourite season of the year. There's nothing quite like looking at the changing colours of nature, the fresh crisp air, chunky knits, tan boots, cinnamon scents, and not forgetting berry coloured lipsticks. I'm definitely looking forward to snuggling up in blankets and reading a good book whilst watching the rain outside
Favourite thing about where you live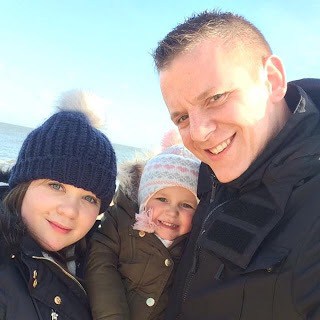 I live in the beautiful countryside of Norfolk and my family have lived for over 30 years. Both my husband and I decided that Norfolk is the place where we wanted to set up our forever home, which became a reality in 2016. We love Norfolk because you are never short of an adventure and living close to the beach is so perfect.
Follow Mimi Rose and Me via Social Media
Twitter: @mimiroseandme
Facebook: facebook.com/mimiroseandme
Instagram: @mimiroseandme
Pinterest: pinterest.com/mimiroseandme