In this day and age, it's quite usual for young professionals to be working and living in the city on a tight budget. If that's the case for you, you're probably living in a relatively small property to help save money, time, and energy. You may have started a new job and are currently looking for a studio apartment for rent, or you could be a homeowner. It can be very easy for a small living space to feel cluttered and cramped. However, by paying attention to a few crucial details, you can turn that claustrophobic feeling flat into a palatial island of calm.
How To Decorate A Small Living Space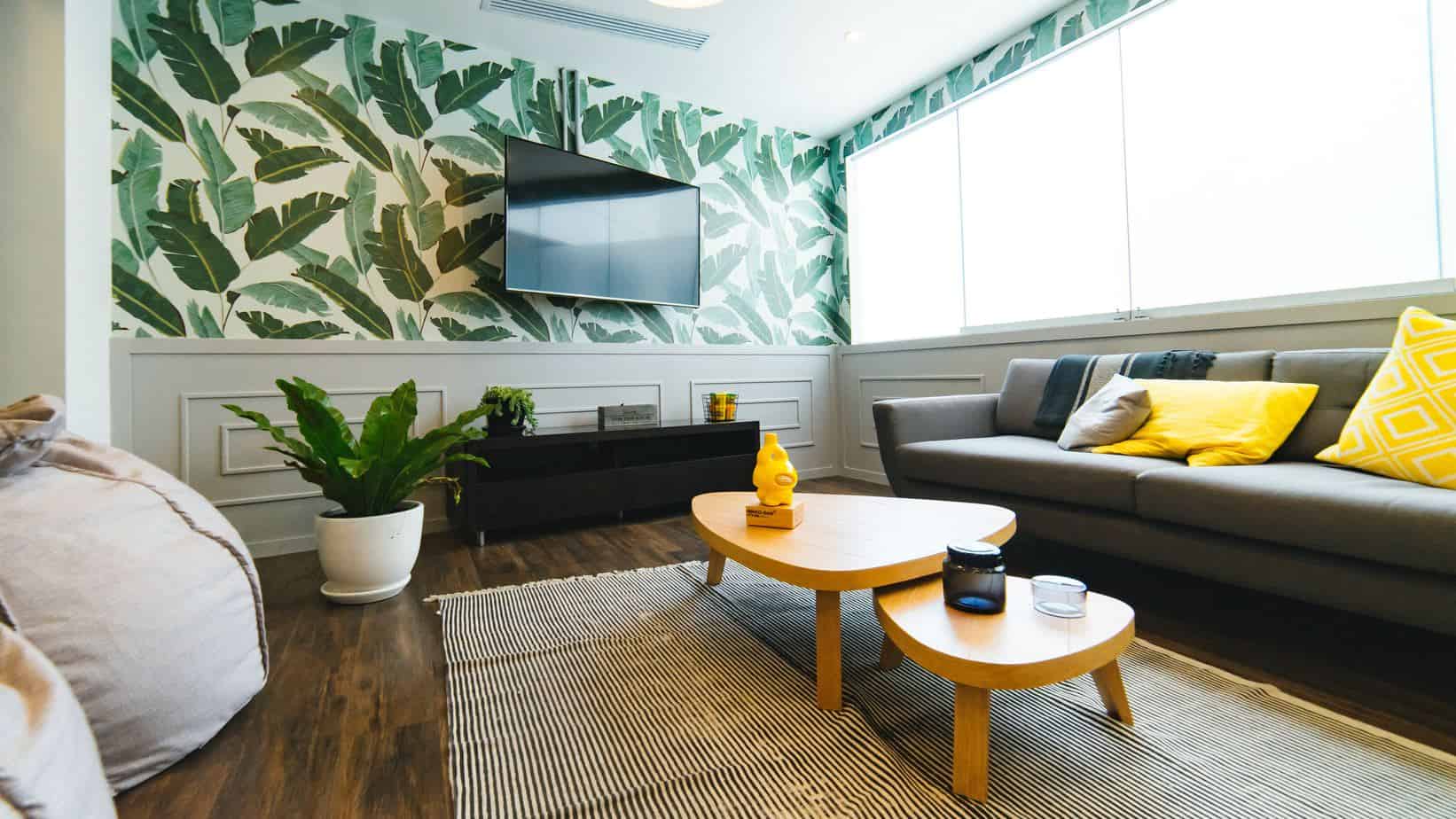 Choose your colours carefully
If you are renting, you may not have much choice in the matter of paint scheme. However, many private landlords will be happy to let you show your creativity, so long as you agree to return it to how it was should you decide to move elsewhere. Choosing the correct colour for your walls can seem like a monumental task, but having a smaller property can narrow your options somewhat.
The first rule is to avoid bold or dark colours, and certainly don't paint everywhere white, it can make a room feel cold and sterile. Darker hues can make any area feel cosy and relaxing, but in a room with limited space, it can feel oppressive. Opt instead for neutral or pastel tones. These add a little colour to the room without making it feel enclosed. They also allow the natural light from your windows to spread around the room, keeping the feeling pleasant and airy. If you do have a penchant for bright or bold colours, limit their use to little accents around the room in your other furnishings.
If you choose to wallpaper, limit it to a feature wall and keep the pattern subtle and well-spaced. A strong or closely spaced pattern can have the effect of making the wall feel like its protruding into the space. Patterns to do with nature are a good choice, as they help to bring the outside in, resulting in a feeling of greater space.
Think about style and furniture
Obviously, this is all down to personal preference, but considering the style or theme in your living space will have a huge impact on how it feels. You may have a fondness for old-world furniture, with lashings of dark wood and leather. However, whilst having one or two items in this style might provide a good focal point for a room, it can quickly become overbearing if they are placed in close proximity to one another.
Opting for a modern style can help the feeling of openness. Furniture with clean, sharp lines adds an element of precision and purpose, whereas subtle curves paired with slim, splayed legs can help to increase the amount of visible airspace on the floor, leaving the room looking less cluttered.
Correct lighting can transform a room
With any small space, lighting can either make or break the feeling and mood of the room. Keep it bright by using LED bulbs and try to avoid creating any shadowy corners. Multi-directional lights can give you a good spread of light, but even better is to have flush fitting spotlights. They can be spaced evenly around the room for wider coverage of light, and they have the added bonus of not intruding on the room like traditional lighting.
Avoid table lamps, as these tend to be chunky and require a table to be placed upon, resulting in decreased floor space. Instead, try a slender floor lamp that can be placed next to the sofa, causing little intrusion into the room.
Utilise the height on offer
It's very easy to think about your furniture in terms of floor space. But remember that your living area has three dimensions, and it makes sense to maximise your use of height in a room. Having a bookcase or wardrobe that reaches all the way to the ceiling is a great way to make a room seem taller, it also means you don't have to go clambering on top of chairs to dust the unseen tops of your furniture.
Consider buying curtains longer than you need them also. Even if your window only takes up the middle portion of your wall, hanging your curtain short of the floor can effectively cut your room's height in half. Fit your curtain pole close to the ceiling and let the curtains hang the full length of the wall, creating an elongating effect.
Eliminate your clutter
Cut down on all the little trinkets and ornaments you have out, as they can quickly crowd a small room. Provide yourself opportunities to keep your belongings organised and out of sight. Utilise your furniture as best you can for keeping items hidden. A chest or blanket box offers plenty of storage whilst also doubling as an attractive centrepiece or coffee table for a room. An ottoman bed will give you plenty of easily accessible storage, allowing for a smaller wardrobe or chest of drawers.
Companies like IKEA even offers you the option of designing your own storage system, making it possible to customise your living space. This means that even if you happen to live in an older property with odd nooks and crannies in it, you can still utilise the space effectively. It is important to take into account the number of items of furniture in any one room. It can sometimes be better to have one or two large pieces which offer plentiful storage, rather than have many small items that make a room feel overly busy. Try to cultivate a feeling of openness without letting yourself tip over into making the room feel barren.
Hopefully, these suggestions have given you some ideas on how you can maximise your living space so that you don't feel enclosed in your own home. There are many other options available, all it takes is some careful planning and a keen eye to keep your living space feeling refreshing and relaxing.