AD | Affiliate Links
You have decided to become more sustainable, but don't know exactly where to start. Thus now is the perfect chance to turn towards your bathroom and swap some things out for greener options. Since your bathroom is one of the most used spots in the house, it's essential to make it more sustainable.
It isn't always simple to find eco-friendly bathroom swaps, but it's never impossible. You need to pay close attention and find smart ways to make the space greener. There are numerous quick and simple ways to do the same as well. Today, let's talk about practical bathroom swaps for sustainable living!
Practical bathroom swaps for sustainable living
Soap Bars Over Liquid Gel
The liquid shower gel comes in plastic bottles that need to be avoided as much as possible. Soap bars thus are a better alternative and also are made from natural ingredients. Even if you use regular soap, it's still one of the best bathroom swaps to do.
If you have the time, you can even make soap bars at home! It can be a great family activity and will also save you a lot of money. You can then also be assured that nothing environmentally damaging comes into the picture. Definitely consider this easy swap when you try to make your bathroom greener.
Toothbrush
If like most of us, you also use a plastic toothbrush, it's time for an upgrade! Reducing plastic is one of the best ways to make your space appropriate for sustainably living. So the plastic toothbrush as much as you love your plastic toothbrush, it needs to go.
Instead, hunt for some toothbrushes made from natural materials. Or you can find options that don't harm the environment as much as plastic. Find biodegradable or compostable options that also don't hurt your pocket. While you are at it, also find eco-friendly dental floss too!
Avoid Single-Use Bottles
Without noticing, we end up using so many one-time-use bottles that add to the environmental damage elements generated from our house. It's now to find such items and swap them out smartly.
It might seem a little too hectic to swap every such bottle for a reusable one, but it will be worth it in the long run. Plus, buying shampoo and other bathroom essentials in bulk will save you a lot of money. This can be another reason for you to buy products in bulk and also store them in reusable containers in the bathroom space. 
Switching to shampoo bars can be another way to reduce single-use plastic. With such a big emphasis on reducing the amount of plastic we use, shampoo bars provide the perfect alternative – and with more than 100 washes per bar, what's not to like?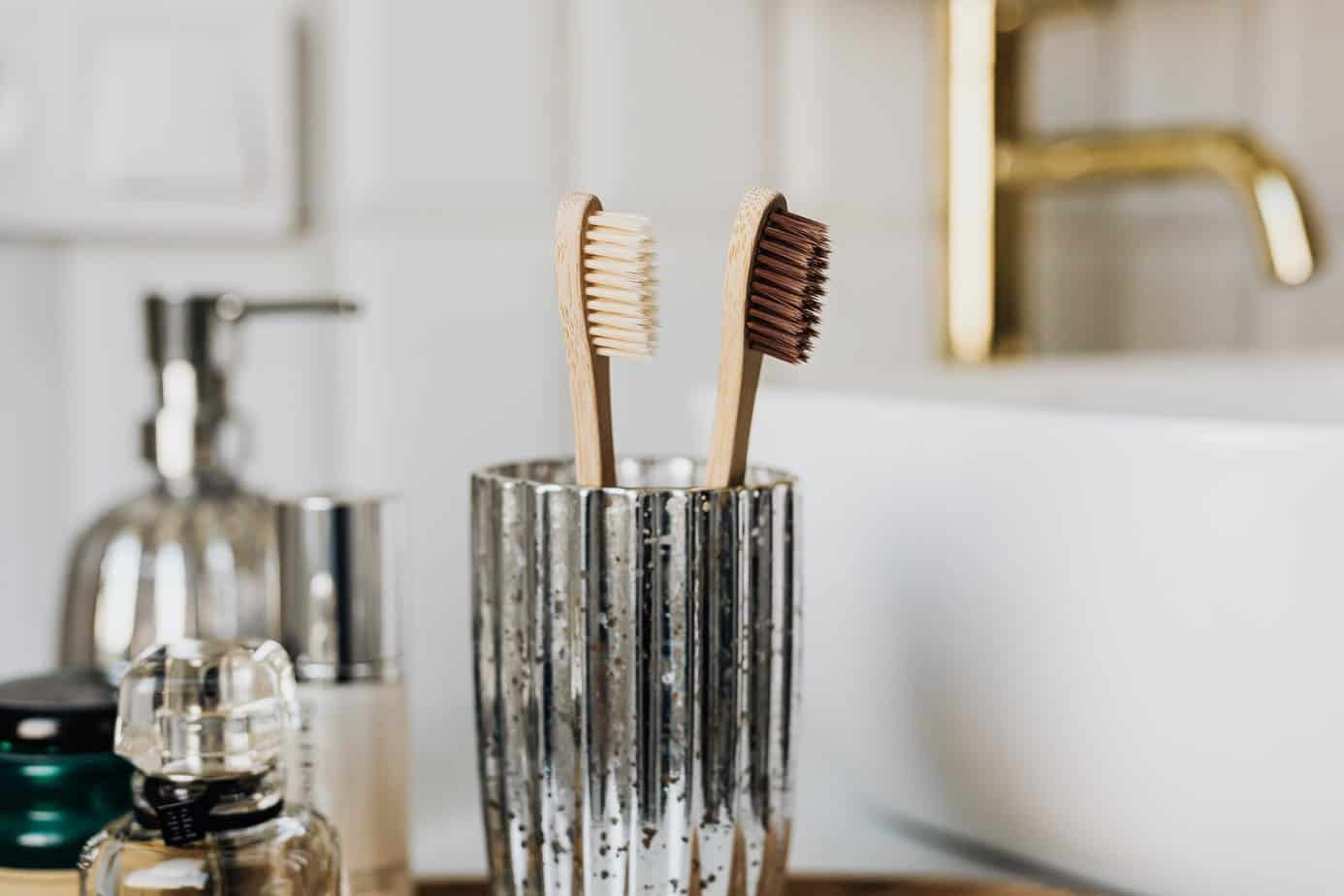 Make Your Own Bathroom Essentials At Home
One of the best bathroom swaps is to swap things with the ones you made yourself at home! That's the easiest way to know that everything used to make that product isn't harmful to the environment. It saves you the extra effort to do the research every time you need to try something new.
Though making shampoo or soap at home can be quite the process, there are amazing benefits of it as well. You save a lot of money buying the best quality products and you get to customise as much as you want. You can try new techniques and ingredients each time to keep things interesting. Thus, this option can be tried by anyone who wants the bathroom space to suit their new sustainable living. 
Zero Waste Razors
A plastic razor is cheap and gets the job done, but is it the best that we can do? When it comes to the list of bathroom swaps suggested, razors are something you should not ignore. And yes, zero waste razors are a thing that you can find!
The metal razors found in the market are better options than plastic ones. The steel blade even can be recycled if you didn't know. You can research a little bit on this topic to improve your knowledge. That way, you can find sustainable razor options that fit your budget and taste as well.
Sustainable Hair Ties
Hair ties are such small yet quick bathroom swaps that can take a big step towards sustainable living. Hair ties are often bought in bulk and thus need to be considered when thinking about ways to make the bathroom greener.
Ensure that you clean and sanitise all hair ties after every use. When you go out to purchase them, spend a little time buying the ones made from harmless material. Again if possible, try to make them yourself or buy from someone you know that supports sustainable living. These are some ways to turn hair ties into a smart tool to help you live sustainably and eco-friendly. 
Conclusion
Bathroom swaps are essential if you have just decided to go the sustainable route and implement changes for the same in your routine. As one of the most used rooms in any house, it deserves a transformation to suit your new lifestyle.
And hopefully, with these simple bathroom swaps, your sustainable living journey is successful as well!
Win a Cole & Co Shampoo Bar
To help you make the move to a more sustainable bathroom, I am fortunate enough to have a Cole & Co Shampoo Bar to giveaway – providing a great alternative to single-use shampoo bottles, plus it lasts for over 100 washes!
PRIZE: Cole & Co Lavender, Rosemary & Spearmint Shampoo Bar
To enter simply complete the Gleam widget below, all entries are optional and each one completed will gain you more entries into the random draw.
Cole & Co Shampoo Bar (AFFT)