Featured
As the sun begins to linger in the sky a little longer, and the crisp breeze of spring turns into the warm embrace of summer, it's time to take your dining experience outdoors. Whether you have a spacious patio, a cozy balcony, or a simple backyard, there's something truly magical about dining al fresco.
But to truly elevate your outdoor dining experience, you need more than just a table and chairs. You need the right accessories to create a stylish and functional setup that will make every meal feel like a special occasion. In this post, we'll explore how to accessorize for outdoor dining and turn your outdoor space into a welcoming oasis of culinary delight.
Start with the Basics: Furniture and Tableware
Before we dive into the world of accessories, it's essential to establish the foundation of your outdoor dining area. Your choice of furniture and tableware sets the tone for the entire experience. Outdoor dining sets in Australia can add to the experience of choosing the right furniture for your outdoor dining.
Choose the Right Outdoor Furniture
Begin by selecting durable, weather-resistant outdoor furniture that suits your space. Whether it's a classic wooden dining set, a sleek metal ensemble, or a cozy rattan collection, make sure it complements your outdoor decor.
Consider the size of your space. If it's limited, opt for a smaller bistro set or foldable furniture that can be easily stored when not in use. For larger areas, a spacious dining table with comfortable chairs will allow you to entertain friends and family in style.
Elevate Your Tableware
Your choice of tableware can make a significant impact on the overall aesthetics of your outdoor dining setup. Go for stylish yet practical outdoor dinnerware and glassware. Look for options made from durable materials like melamine or acrylic that are both shatterproof and dishwasher safe.
Consider adding placemats, coasters, and cloth napkins in coordinating colors to add a touch of elegance to your table. Don't forget essential utensils and serving dishes to complete the look.
Create Ambiance with Lighting
To transition seamlessly from daytime to evening dining, incorporate appropriate lighting into your outdoor setup.
String Lights and Lanterns
String lights or lanterns hung above your dining area not only provide functional illumination but also create a warm, inviting atmosphere. Opt for soft, warm-toned LED lights to achieve a cozy ambiance that's perfect for outdoor dining.
Candles and Candleholders
For a more intimate and romantic feel, place candles in decorative candleholders on the table. Flameless LED candles are a safe alternative that still adds a flickering glow. Scatter a few around your dining area to create a magical atmosphere.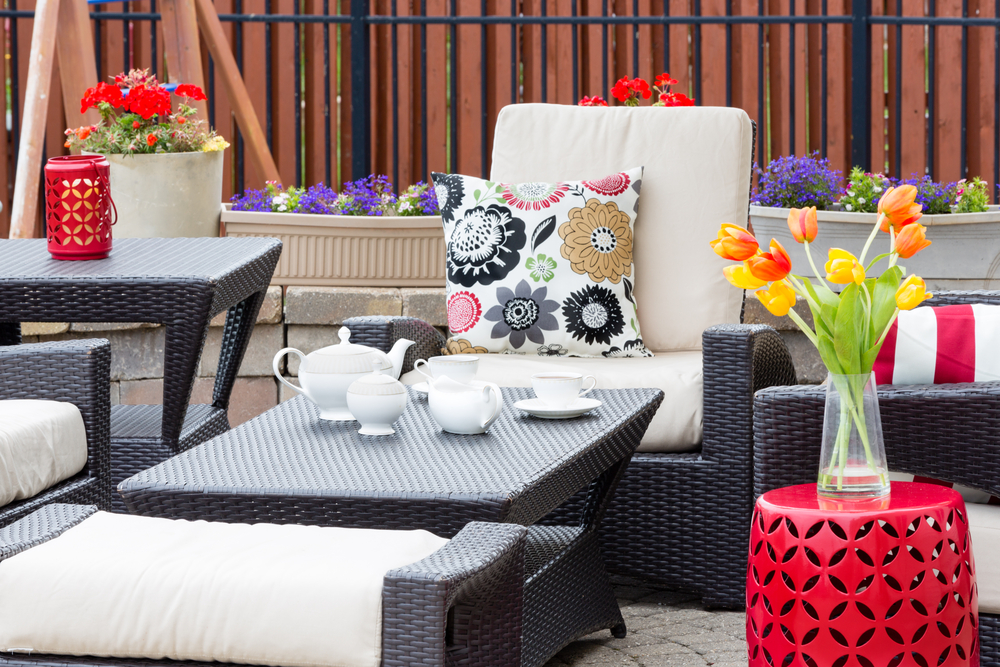 Comfort is Key: Seating and Cushions
Make sure your guests are comfortable during those long, leisurely outdoor meals.
Seat Cushions and Pillows
Invest in comfortable seat cushions and pillows for your outdoor chairs. Choose weather-resistant fabrics and colors that complement your overall decor. Not only do they add comfort, but they also introduce an element of style to your dining area.
Throw Blankets
For cooler evenings or late-night gatherings, have a few throw blankets on hand. Drape them over the back of chairs for a cozy and inviting touch. Plus, they can double as a stylish accessory.
Add Greenery and Natural Elements
Bringing the outdoors in (or, in this case, the outdoors out) wouldn't be complete without some greenery.
Potted Plants and Flowers
Place potted plants or blooming flowers strategically around your dining area. Not only do they infuse life and color into the space, but they also contribute to a fresh, natural ambiance.
Centerpiece Decor
Create a stunning centerpiece for your outdoor table using a combination of fresh flowers, succulents, or even a simple bowl of citrus fruits. Natural elements like these add vibrancy and freshness to your dining experience.
Practical Accessories for Convenience
Lastly, don't forget the practical accessories that make outdoor dining a breeze.
Outdoor Bar Cart
Consider a stylish outdoor bar cart stocked with essentials like drinks, glasses, and cocktail accessories. It not only adds convenience but also serves as a decorative element.
Food Covers
To keep pesky insects at bay, invest in food covers or mesh domes that not only protect your culinary creations but also add a touch of elegance to your table.
Conclusion
Accessorizing for outdoor dining is all about creating a welcoming, functional, and stylish setup that enhances your overall experience. By carefully choosing furniture, lighting, comfort elements, greenery, and practical accessories, you can transform your outdoor space into a haven for dining and entertaining. So, gather your loved ones, savor the flavors of your favorite dishes, and toast to the beauty of outdoor dining in your stylish oasis under the open sky. Cheers!