Do you love your living room as much as your balcony, but find yourself laying on your living-room sofa longing for some fresh air? Well, we've got some inspiration for you: once you see our five ideas for comfy balconies and terraces, you won't ever want to be indoors during the summer again!
1. Look to the east – between rugs and tealights
Bring your balcony idea to life by designing it in bright, Arabian-inspired colours.
Large modern rugs and comfy footstools are simple additions that can help create a cosy atmosphere and transform your outdoor space into an enchanting paradise. You can also decorate your footstools with sequins or cords. And you don't need to hold back when it comes to choosing colours. Bright yellows, bold blues, vivid violets and rich red tones work well with this theme. Accessories such as baskets, silver lanterns, fragrant scented candles and Arabian-style potted plants complete the look.
2. Go green – a forest facade
Here's a balcony idea for fans of facades: you can design balconies that really stand out like the example shown above, which combines nature and architecture in an interesting way.
An apartment complex in Milan has created a spectacular display of greenery along its facades, using around 900 trees from a total of 20 different types of tree. If you want to add a touch of nature to your balcony, it helps if you bring in some plants. You could go for vines which wind their way along your balcony railing or potted plants in planters, or you could create your own herb garden. You can't go wrong with geraniums, petunias and bluebells if your balcony gets a lot of sun. To make the most of the available space, you could also try putting up vertical gardens made of rain gutters.
3. Space saver – a balcony bar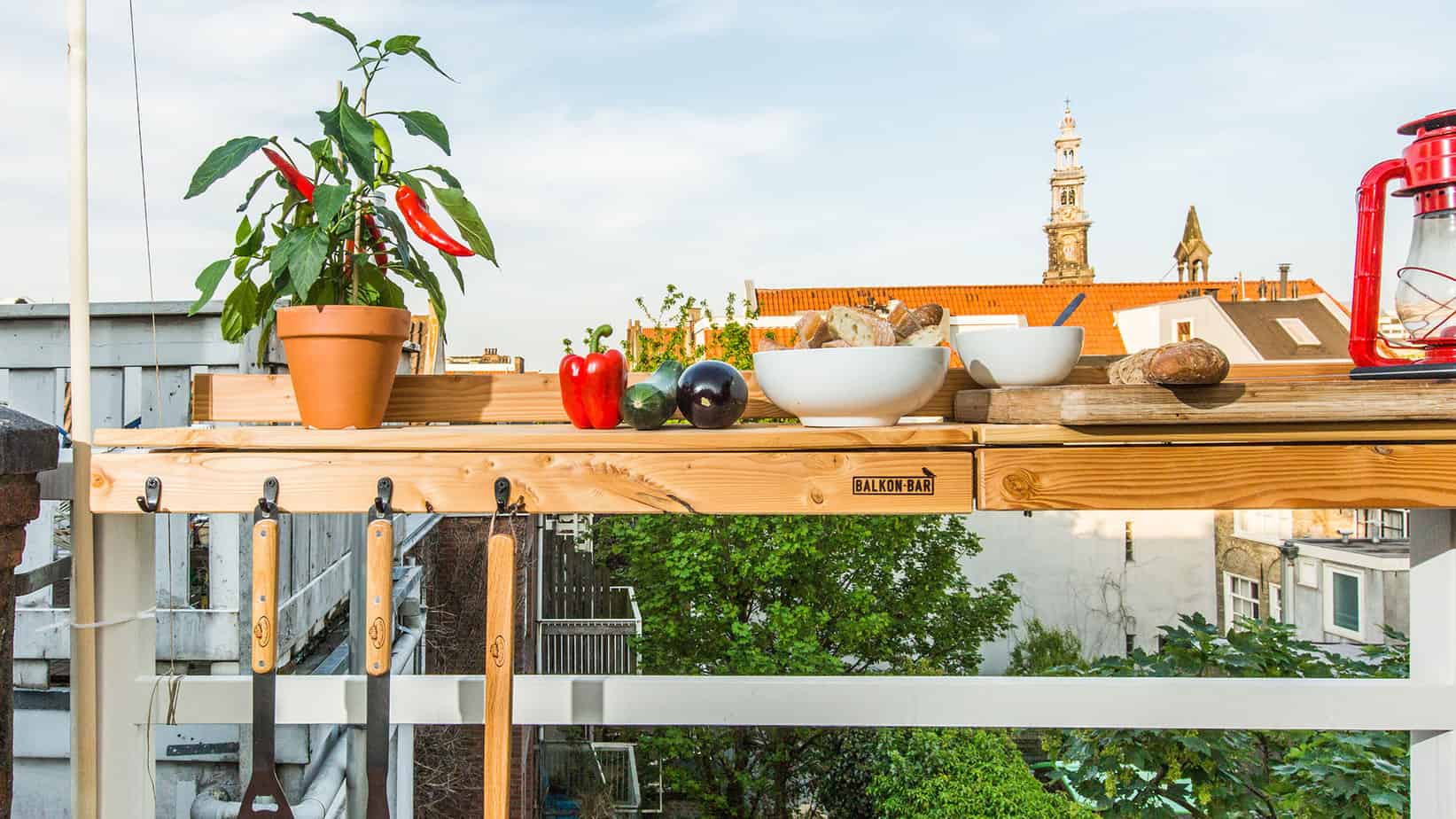 With this idea, your balcony becomes a bar. It's perfect for breakfasts for two or barbecues with friends. © www.balkonbar.de
With this simple wooden design, your balcony will be transformed into the perfect bar for all occasions. For narrow balconies that don't have much room for a table, a bar secured against the railing is the perfect option. Once you've set it up, you can enjoy breakfast for two with a view from your balcony bar. And if you're hosting a barbecue, it's the perfect place for your friends to put their food and drinks. Just make sure that the bar and any items on this are sufficiently secured so they don't fall off. And for those who like a drink in the evening but don't want the hassle of carrying around wine bottles, a wine bottle holder makes for a useful addition.
4. Maritime theme – hoist the sails on your terrace
An idea for adventurers: decorate your balcony or terrace in a maritime theme and the beach and the ocean will seem that little bit closer.
Do you live far from the sea but want to enjoy the same maritime feeling you get on the coast? Then why not try making your own little berth on your terrace or balcony? There are lots of ways you can make your home feel like the deck of a ship. You can get nice and cosy in your own hooded beach chair, for example. A less costly but equally effective option would be to decorate your balcony with maritime items. For example, you could try getting hold of an old paddle or some knotted rope, or hang up a fishing net on your wall to decorate your outdoor living room. You can also build your own balcony furniture and paint it blue, white and red to give it a seafaring look. Try to find sofa and cushion covers in these colours as well and decorate them with classic maritime motifs such as mussels, wind roses and seagulls. Can you hear the waves already?
5. A taste of Scandinavia – relax in style on your terrace
On this large balcony, Scandi-style comes into its own.
Are you a fan of minimalist Scandinavian design and fancy adding a Nordic touch to your balcony? How about an elegant chair or sofa, inspired by a Danish classic? Add even more comfort with Swedish lambskins and a woollen blanket: they don't just look good; they also make your balcony super cosy. The Scandinavian aesthetic is all about strong, clear tones and natural materials. You can achieve this look using whites, blues and beige, with black for contrast. Tasteful rustic garden furniture made of light-coloured wood or wickerwork will look great both in and outdoors. And to round it all off, the right wood care will ensure that your balcony looks great all year round.
Find inspiration and guidance, project ideas, tricks and tips for all areas of DIY and gardening to help make your house a home visit https://www.allaboutdiy.com/gb/en/index.htm
Featured Article